The Versatility of RK Truss
Design Options:
Display truss

can be configured in limitless ways using a huge array of different sized truss cross sections, radius sections, straight sections along with specialty corners, t's and x's. Because of this, countless shapes can be designed from simple arches, perimeters and rings to complex display walls, towers and custom island configurations.
Appearance:
Truss has a modern and classic look all tied into one. Because of the many design options, truss can look high-tech, modern and follow classical lines of symmetry. Truss display exhibits can be uniquely one of a kind. They can be the focus, an accent or blend into the background. The best of both worlds.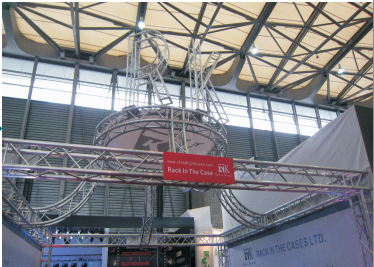 truss displays
Truss Graphics:
Truss is perfect for hanging all types of graphics. It forms the perfect back drop for huge, high impact graphics or simple banners. Attachment is achieved in a variety of ways ranging from standard Velcro and magnets to specialty clips. Large, monolithic images can be displayed with ease using display truss as a giant banner stand or simple vinyl banners can be affixed to the top of an arch, serving as an entry way into an event. Get your message up high by using a centralized tower with graphics. Add lighting for a wall wash, spot light or back light effect.
Easy To Use:
Displays are usually assembled with a single tool, with some systems requiring no tools at all! Complex truss designs can be composed of smaller parts that break down to fit into cases or crates for transport. Most designs can be set up with a small number of people.
Materials:
We use aluminum and steel for the different truss products we carry. Both have their own advantages. Hollow tube steel for example can have graphics attached with magnets, yet still be lightweight enough for affordable shipping. Aluminum truss is lighter weight than steel and because of this; larger tube cords (2") & wire webbing can be used. This helps make it stronger for heavier weight loads.
truss displays
Uses:
Standard exhibit truss is used for a large variety of purposes. For trade shows, truss is used as accents to a trade show display or as the full display itself, utilizing the many options to create high impact exhibits. For the retail industry, truss can hold banners, create settings and display products. In fact, our custom truss has been used in hundreds of different ways to display anything from sun glasses to industrial equipment. In the entertainment industry, stage truss is the standard for holding lights and equipment on sets and the stage. Churches use truss for some of the same reasons. We have even sold a truss system to be used as a model of an emergency vehicle for training purposes at a major university. Another time, we used stage truss to display games and monitors for a major game industry retailer. Any time structure and framework is needed in a display, truss is a worthy choice.
Customization:
Of course, we offer off the shelf truss solutions in standard sizes, but we also love to offer custom designs using several of our truss products. Fractional sizes are no problem along with custom turns and angles. We have even come up with new parts in the design process for various projects. Some of our products can be powder coated or combined with multiple truss systems for different looks.